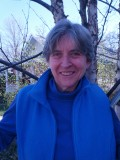 Since 1985, I have been providing professional, nurturing massage that soothes the body, mind and spirit. I am people-oriented and work from a holistic approach. As a helper, supporter and teacher in my practice, I am in service to others in the hopes that they can allow themselves to let go, be still, be calmed and rejuvenated!

I'm a Licensed Massage Therapist in private practice at The Rotunda in Baltimore, MD. I recieved my B.S. degree in Health and Physical Education from Lock Haven University in Lock Haven, PA and my Massage Therapy Certificate from the Potomac Massage Therapy Institute in Washington, DC. In addition to my therapeutic massage practice, I work for the Johns Hopkins Bloomberg School of Public Health. I've enjoyed being with the ALIVE Study, a longitudinal, HIV/AIDS research study since it began in the late 1980's!
In both my massage practice and at the ALIVE Study, I have the pleasure of working with people from many different ethnic and cultural backgrounds. I have a great appreciation for diversity!
You can also find more information about me on Facebook at Mim Caris Massage.
In looking for a massage therapist, it may be useful to do a search at "Find a Therapist" within the AMTA website. If you have any questions, simply give me a call or send me an email. I look forward to hearing from you. Be well!